A sump pump is a small pump in a plastic pit located in the basement or crawlspace. This is installed to prevent flooding and reduce the overall water under the basement floor or in the crawlspace. Water flows into the sump pit through interior or exterior drain tiles (drain pipes) or if you are in a flood zone or high water table, it can percolate through the soil. Once this pit collects water it should be pumped up and out at least 10 feet away from the foundation pumping down hill.
Many older homes do not have sump pumps, some times this is okay if the house hasn't had flooding issues. If you are unsure if the home has had flooding or moisture issues, it is a good idea to have a sump pump installed as a preventative measure. However, sump pumps are not a guaranteed method of eliminating flooding or ground water, unless accompanied with an interior or exterior waterproofing system.
­However, legislation, including amendments to the U.S. Federal Clean Water Act in 1987, has made sump pumps a requirement in homes that aren't necessarily at a high risk for flooding. Today, 1-2 pumps are common and part of building codes in all new construction homes.
Smart-Dry™ Sump Pump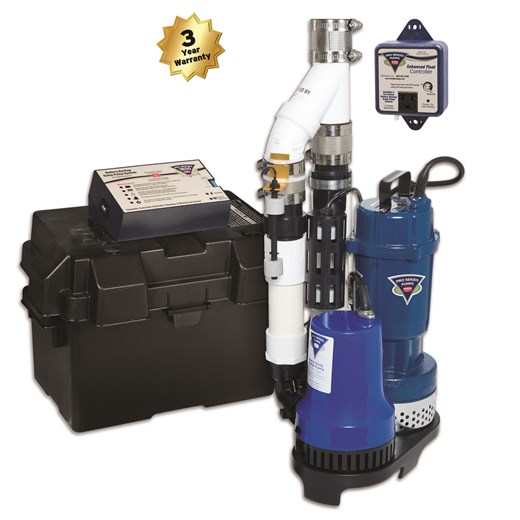 Pre-Assembled primary and backup sump pump for quick and easy installation
2770 GPH at 10 ft. lift (ST1033 Primary Pump)
1850 GPH at 10 ft. lift (PHCC-1850 Backup Pump)
Backup will assist primary pump if excessive amounts of water are entering the sump pit
Remote monitoring capability with external PHCC Pro Series CONNECT Modules allows you to receive real time alerts
USB Data Port and Remote Terminals connect to external devices such as PHCC Pro Series CONNECT Modules, home automation systems or other devices for remote notification
Caged dual float switches provide dependable activation for primary pump
Dual float switch provide complete redundancy for the backup pump
System pumps intermittently for days
Automatically switches to battery power when AC fails
Recharges battery automatically
Designed for use with maintenance or maintenance free batteries
Accommodates up to two (2) B-2200 batteries for 100 hours of pumping (Based on 10% duty cycle. Run times may vary based on inflow of water)
3 year warranty
Exterior Drainage Solutions
Some times the customer doesn't want or can't fit a sump pump on the inside of the home, or there is a low water collection point in a yard that isn't able to feasibly drain down hill through a french drain or grading.
That's when an exterior sump pump comes in handy.
Some contractors just install a sump pump in a normal pit on the exterior of property. The first freeze kills the pump and you are out all the money of the installation.
Our exterior sump pumps are installed 5 ft below soil level, this allows the pump to stay below frost depth, so even in the coldest winter, your frost-resistant sump stays protected from the elements.
Best way to make sure water never comes inside the house, fix your exterior drainage.
Want to schedule an appointment? You can book that online here